As we grow #oneyearbolder, we are pleased to announce the promotion of some of our best and brightest minds and welcome a new partner.
The next step for some of our star players is more than the evolution and growth of colleagues, representing the enhanced diversity and trajectory of Urbis, with 61% female representation amongst promotions. 
From January 1st 2021 we will have 1 new Partner, 2 new Directors and 16 new Associate Directors. We celebrate the accomplishments of these committed city shapers, as they transition into their new roles.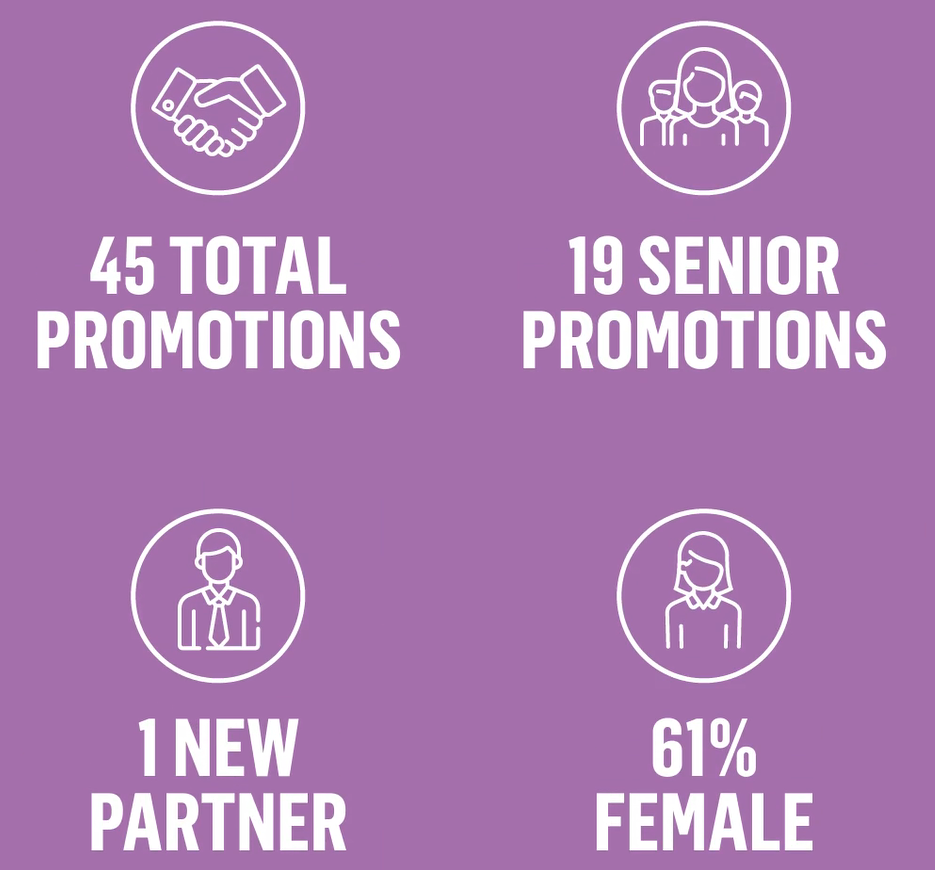 Our New Partner
Kris Krpan, Planning, Brisbane
Our New Directors
Alaine Roff, Planning, Sydney
Sam Allsop, Real Estate Advisory, Sydney
Our New Associate Directors
Alexandria Barnier, Heritage, Sydney
Ashleigh Persian, Heritage, Sydney
Megan Aulich, Property Economics & Research, Melbourne
Fidel Freijah, Planning, Melbourne
Grace Brown, Planning, Melbourne
Marieka van den Bergh, Planning, Perth
Erin Dethridge, Planning, Sydney
Genevieve Beard, Planning, Sydney
Jessica Ford, Planning, Sydney
Jocelyn McDowall, Planning, Sydney
Simon Gunasekara, Planning, Sydney
Sophy Purton, Planning, Sydney
Grant Williams, Planning, Brisbane
Scott Hinds, Real Estate Advisory, Brisbane
Anne Cunningham, Real Estate Advisory, Melbourne
Stephanie Heinz, Real Estate Advisory, Melbourne
We are committed to supporting the advancement of our people at all levels and are proud to announce the following promotions:
Economics & Social Advisory
Peter Sakis, Consultant, Melbourne
Heritage
Annabelle Cooper, Consultant, Sydney
Keira Kucharska, Senior Consultant, Sydney
National Design
Abdul Razali, Senior Urban Designer, Sydney  
Agnes Tiong, Senior Urban Designer, Sydney
Planning
Juliette Lovett, Senior Consultant, Melbourne
Laura Dixon, Senior Consultant, Melbourne
Roya Lennie, Business Unit Manager – VIC Planning, Melbourne
Alyce Noney, Senior Consultant, Sydney
Chris Croucamp, Senior Consultant, Sydney
Grace MacDonald, Senior Consultant, Sydney
Isabelle Kikirekov, Senior Consultant, Sydney
Jack Kerstens, Senior Consultant, Sydney
Katie Weaver, Senior Consultant, Sydney
Sarah Noone, Senior Consultant, Sydney
Rebecca Stevens, Senior Team Administrator, Gold Coast
Property Economics & Research
Liam Hennessy, Senior Consultant, Melbourne
Rhett Nothdurft, Senior Consultant, Melbourne
Scott Riddell, Consultant, Melbourne
Dermott Carr, Senior Consultant, Perth
Ryan Wallis, Consultant, Sydney
Real Estate Advisory
Alexandra Lane, Senior Consultant, Melbourne
Allen Jones, Senior Valuer, Sydney
Information & Digital
Louise Sweeney, Service Desk Lead, Perth
Finance & Operations
Danielle Stein, Group Office Services Manager, Brisbane
Corné Rademan, Financial Planning & Analysis Manager, Melbourne
Brand & Clients
Adam Lloyd, Brand & Clients Coordinator, Brisbane