Implementing a circular economy in the NSW built environment has targeted construction waste management and building energy use. With the construction sector as one of the larger contributors to our carbon footprint, it is now vital to embed circular economy principles in the planning system.
NSW Construction Waste
NSW is transitioning to a circular economy that 'values resources by keeping products and materials in use for as long as possible'1. Current built environment policies and regulations focus on waste management, reducing direct emissions from buildings, or greater water and energy efficiency – with little recognition around the contribution of the whole construction sector and the life cycle of development.
The construction and demolition (C&D) sector alone generated 27 million tonnes (44%) of waste in Australia. Of the total 22 million tonnes of waste in NSW in 2019-20, more than 57% or 1.52 tonnes per capita, was C&D. Unprecedented levels of development in our major cities will only increase this waste stream further.
Figure 1 Graph of Waste generation, NSW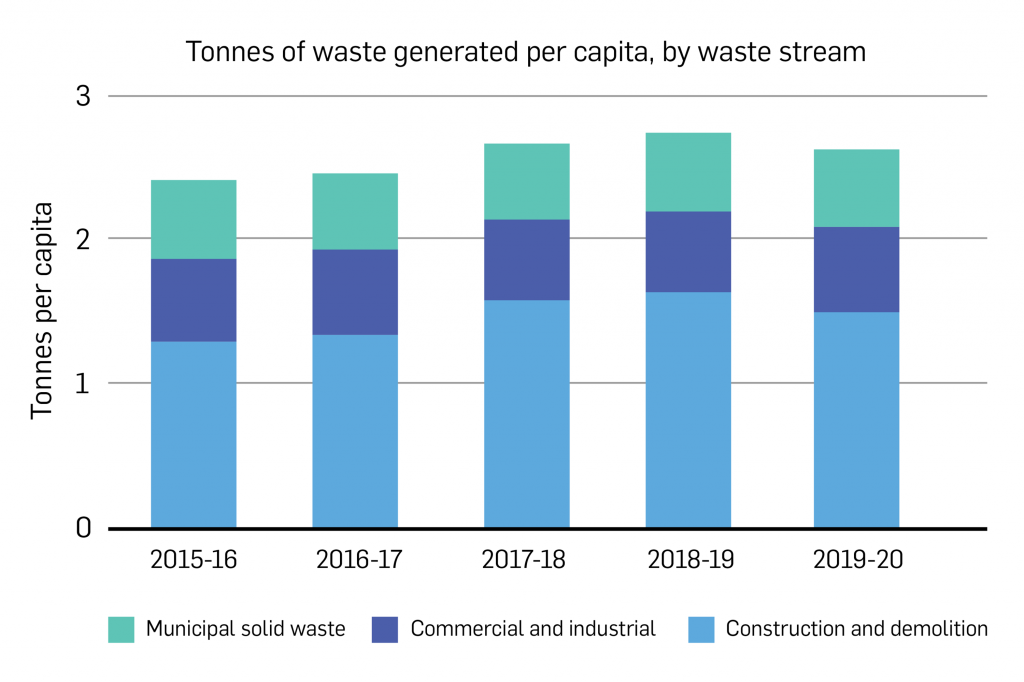 The NSW Waste and Resource Recovery (WARR) Strategy recognises that effective waste management is fundamental for protecting the long-term wellbeing of the environment and the community. The strategy has a goal for 80% of C&D waste to be recycled by 2021/2022, while recycling rates for the C&D waste stream is strong (currently about 77%); remaining unchanged for a four year period