Two oval-shaped torpedo glass bottles that held soft drinks for Brisbane's first European settlers have been discovered at the $3.6 million Queen's Wharf casino development.
Described by the project's resident archeologist as the first SodaStream, the Islington torpedo bottle manufactured in 1818 was made from a mix of glass, earthenware and ceramics, and metals about 190 years ago.
The embossing on the British company bottle by John Webb, 'Webb's double soda and other waters to her Majesty Islington near London" was the first bottle phrasing used by the company.'
The second torpedo bottle was made in William Starkey's factory in Sydney, which was one of Australia's longest-running ginger beer, cordial, and aerated water manufacturers.
The company was established in 1838 but the artefact dates back to mid-19th century.
Urbis archaeologist Holly Maclean said the torpedo bottles were popular in the 19th century when there was a struggle to keep drinks carbonated.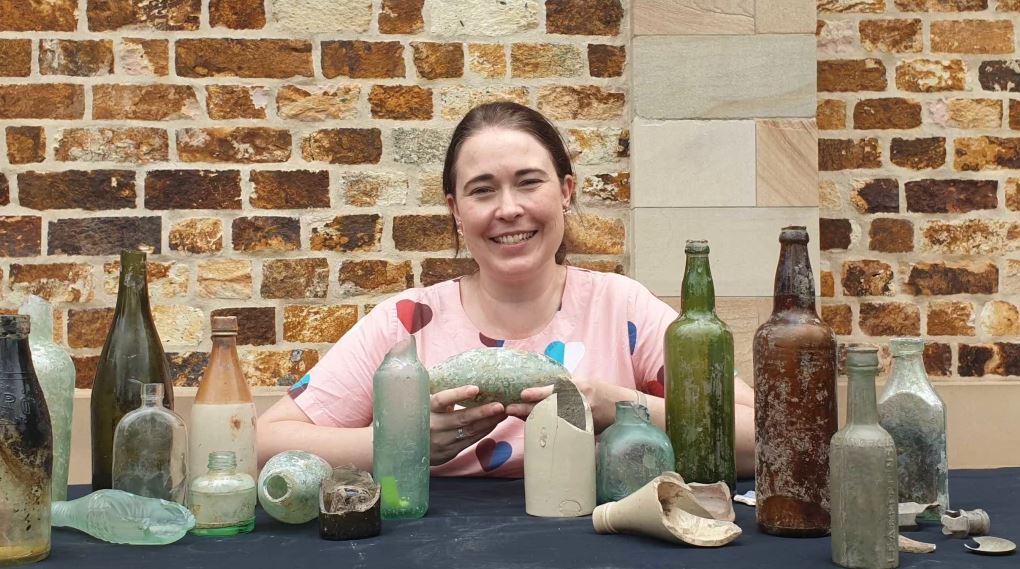 "Most of the bottles at the time had a cork seal but because it couldn't stand up straight, the cork would always be wet and it wouldn't get the opportunity to ever dry out," she said.
"Once it dried out, the cork would crack and you would lose all the carbonation.
"So these were actually quite cleverly designed so that they could be transported from England over to Australia and they would still arrive carbonated at their final destination."
The bottles were found among about 100 artefacts such as champagne bottles, medicinal containers and Terracotta dishes.
The Royal Historical Society of Queensland immediate past president Dean Prangle said the artefacts were evidence of European settlement on the north bank of the Brisbane River from 1825.
"Brisbane will be 195 years old on May 25 this year, which was the date in 1825 when Lieutenant Henry Miller, along with convicts and soldiers landed nearby to set up the Moreton Bay penal settlement on the Brisbane River," he said.
The artefacts will be held in the Queen's Wharf Brisbane Visitor Centre, which will open on Thursday, March 5, on the corner of George and Alice streets.
"

Some of Queensland's earliest soft drink bottles have been discovered at the Queen's Wharf construction site. And there's even a link to Captain Cook. https://t.co/VZ3A1cpmr5 @STitmus7 #7NEWS pic.twitter.com/u05MOOIBIQ

— 7NEWS Brisbane (@7NewsBrisbane) February 26, 2020
The above is a snippet from the original article published by The Sydney Morning Herald.  Read the full article here.
Header image courtesy of Destination Brisbane Consortium.