Suncorp, in partnership with Urbis and the Cyclone Testing Station (CTS) at James Cook University (JCU), has just launched a research report which aims to protect North Queensland homes against cyclones by demonstrating the economic and social benefits of mitigation options.
The Build to Last report, part of Suncorp's Protecting the North initiative, presented a retrofit program that will deliver wide ranging social and economic benefits. This ground breaking research was made possible through the availability of detailed insurance data together with the expertise of JCU and Urbis.
Urbis Economic & Social Advisory Director, Nicki Hutley, led the economic analysis component of the report and took part in the media launch last week.
Using Suncorp's insurance claim data, Urbis and the CTS analysed cyclone vulnerabilities in homes and what can be done to address them. In particular, CTS proposed three mitigation options to address cyclone risk while Urbis assessed the Benefit-Cost Ratio (BCR) of each option for homes of various ages.
The analysis showed that simple, low-cost mitigation like securing garden sheds, removing shade sails, and bringing outdoor furniture inside can prevent claims and reduce insurance costs.
Furthermore, using Cyclone Yasi as a case study, Urbis found that low cost strapping upgrades at a cost of approximately $3,000 achieved a BCR of 1.5 for pre-1960 homes and a BCR of 1.4 for 1960-1980 homes. New approaches to preparedness such as these can pay for itself after just one cyclone.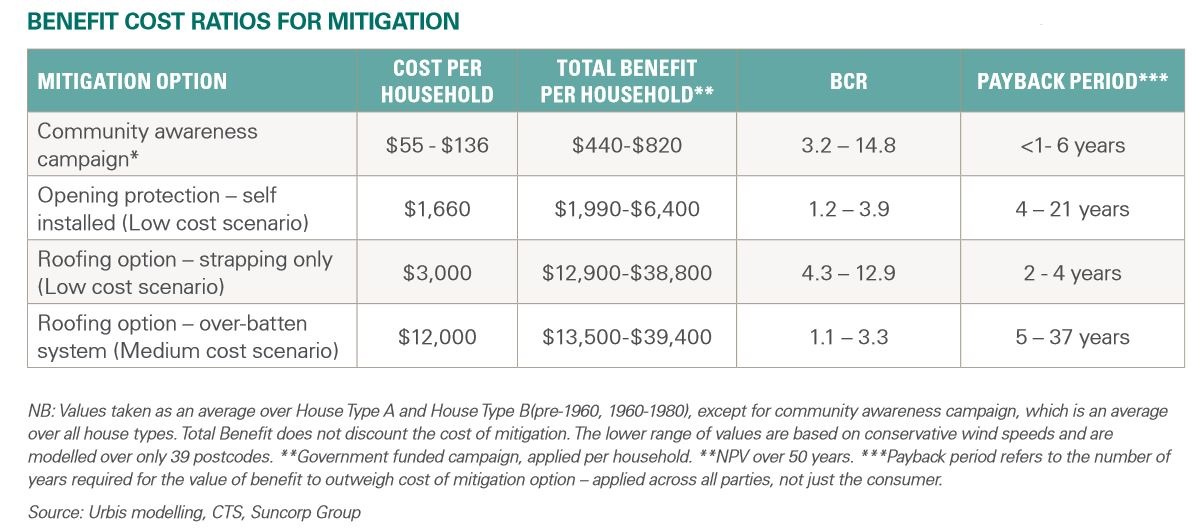 Suncorp's Protecting the North initiative seeks to address the risks and cut the cost of insurance for those living in high risk areas for cyclones. On average, cyclones cost $632 million a year and this is expected to continue to increase into the future. The Build to Last report is the first step towards a wider program of activity that will build a safer community and a more sustainable future for North Queensland.
For further details on the Initiative, click here to read the full Report
For further information about Urbis' involvement in this Initiative or to discuss your economic analysis requirements, please contact Nicki Hutley on nhutley@urbis.com.au