Thank you for your interest in our National Student Internship Program.
Our program offers exclusive opportunities for the best and brightest students to gain invaluable experience and broad exposure to our business and related industries, across our Brisbane, Gold Coast, Melbourne, Perth and Sydney offices.
We look for undergraduate or post-graduate students who are hardworking, collaborative and passionate about shaping communities and cities.
Applications for our 2023 program will open in mid-2022.
Save
Save
Save
Save
Save
"

Urbis provides excellent opportunities for students to gain valuable multi-disciplinary experience that will give us a headstart in our careers.
Our annual program means you'll be graduating with the distinct advantage of industry experience over your peers.
Our positions offer flexibility (2-4 days per week) in order to complement your studies.
We offer internships in the following areas, though positions will vary across each office:
Urban Planning
Urban Design & Landscape Architecture 
Property Economics & Market Research
Valuations & Real Estate Advisory
Public Policy & Economic Advisory
Click below for more details.
Benefits of the Urbis experience
"

I am excited to be a part of positive change and development in our growing cities.
Invaluable client exposure and experience
As a student, you'll have exposure to clients and learn from mentors – some of the best in the industry –gaining experience similar to that of a first-year graduate.
Enhanced employment prospects
The relationships you make and the impression you leave could provide the opportunity to help you secure a permanent position after you graduate. You'll definitely be graduating with the distinct advantage of experience over your peers.
"

Urbis' reputation of upholding a vibrant workplace culture, as well as its commitment to placing people at the forefront of city-shaping, drew me to the student program.
Ongoing learning & development
During your time here you'll have access to different learning & development resources to support your growth throughout the year. This will include a thorough induction process to set you up for success, as well as facilitated training and learning tools at your disposal. You'll also benefit from plenty of on the job learning.
Social life, health and wellbeing
Life at Urbis isn't all work and no play – we like to let our hair down and have fun too! Regular social activities and health and wellbeing programs will be made available to you.
Great offices
Brisbane: In Brisbane, we are based in the heart of the new Brisbane Quarter with sweeping views of the Brisbane River
Melbourne: Enjoy working in our new office, located at 'Olderfleet' in the re-vitalised mid town
Sydney: Our new Sydney office in Angel Place offers innovative and flexible ways of working in a modern, bright and energising mutli-storey office
Perth: Our Perth team are a stone's throw from Elizabeth Quay, enjoying dynamic offices in The Quadrant building on William St
Hear from some of our alumni
Ashleigh Ryan
Planning
Associate Director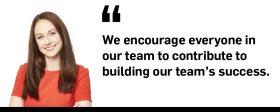 How did you start out at Urbis?
I first joined Urbis as a student mid-way through my undergraduate planning degree. As part of the Planning degree we were required to undertake a year of work experience in the industry, but I ended up gaining so much more than just that. I have been at Urbis now for over seven years, and every year I am faced with new challenges, different projects, and my passion for Planning just grows.
Take us through a typical day for you.
A typical day for me is hard to describe, as each day can change a lot. Currently I would spend about half my day in meetings or working together with clients and our team on projects, a few hours responding to emails, and a few hours preparing planning advice and reports that inform a planning pathway or seek planning approval for a new development.
I also contribute to the initiatives of the Property Council of Australia (PCA), through my role as Chair of the Future Directions Committee in NSW, and position on the NSW Division Council of the PCA.
How would you describe working in your team? What is the culture like?
Our team supports each other. We have more than 60 planners in our office, but we still work as if we are one large team, constantly sharing information about how to do things better and how to achieve the best. Everyone in our team will bring a different experience and important knowledge to the table that will challenge our collective thinking and push us forward. Our Assistant Planners are no different as we encourage everyone in our team to contribute to building our team's success.
What has been your biggest achievement so far in your time at Urbis?
If I had to nominate just one, my biggest achievement at Urbis (so far) was working on the One Sydney development at 1 Alfred Street, Sydney. I started off on the project assisting others in the team, and quickly became a key contact for the client in preparing and securing development approval for a high rise residential development and a world class hotel at Circular Quay. The project was highly rewarding as it will deliver key public benefits and new laneways within the CBD, and will be a part of the changing face of Circular Quay for a whole generation.I am proud of being a part of this development not just because of its prestigious location, but for the success we had navigating a highly complex planning approval pathway. This experience is further enhanced by my role as the planner for a nearby new commercial building at 210-220 George Street, and being able to contribute to the renewal of a precinct in the Sydney CBD that is undergoing significant change.
Observing this change is somewhat comparable to the work I have undertaken in Green Square, where the coordination of multiple developments in this significant renewal area is creating a new precinct characterised by design excellence. OK – maybe I've squeezed three or four achievements in one!
Andrew Kinnaird
Real Estate Advisory
Director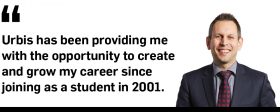 A little bit about you..
I recently became a very happy and proud dad, which has been an amazing, life-changing experience!  I have also recently embraced my inner coffee snob and purchased an Italian espresso machine, grown a beard and become a rare tattoo-free self-proclaimed barista.  Did I say that I am Melbourne born and bred? 
When this dad thing isn't so new, I look forward to getting back to F45 classes and more regular longer distance runs, having previously achieved a personal goal of running a marathon. I also enjoy a more adventurous type of travel, having hiked to Mt Everest Base Camp and to Machu Picchu.  Kilimanjaro is next on my list, but relaxed beachside holidays have become the far more desirable option for the time being.
How did you start out at Urbis?
I joined Urbis in 2001 as a Student Valuer, working 3 days a week.  During my first few years I worked with several leaders within Real Estate Advisory, gaining experience across the major asset classes.  I think that this was essential in establishing a strong and broad understanding of the market. 
I started a long time before the current student program was in place, with today's opportunity enhanced significantly.  In my current role as a leader, it is exciting to be able to offer the next generation of experts the opportunity to work in a diverse and flexible environment.
What has been your biggest achievement so far in your time at Urbis?
Recently I became a Partner of the firm which is a significant milestone and a result of many years of business and leadership development.  At the moment, I am providing expert advice for several significant claims for compensation under the Planning and Environment Act for residential developers affected by the Outer Metropolitan Ring Road.
What advice would you give someone who is looking to start out in your practice area?
Learning the market and how to undertake a valuation is only the first step.  Our business is based on relationships with our clients and ensuring that we grow together.  We can enhance our value proposition to our clients by being thought leaders, through harnessing knowledge across our different business units. 
What do you need to apply?
Your Resume
Cover Letter (please see below what to include in this document)
A copy of your most recent academic transcript
For Design roles only: we require a portfolio or examples of your work. For other roles, you are welcome to provide examples, however, this is not required.
We receive incredible interest for our program every year. In order to assess your application, your cover letter must be 1-page maximum and respond to the following questions:
Why do you want to be a city shaper at Urbis?
What has motivated you to pursue a career in your selected discipline?
Which Urbis project (past or present) would you like to be part of, and why? Note: your chosen project should be relevant to the practice area/disciple you are applying for.
In order for your application to be considered, it must be submitted online via our website. Please do not email your application to the People & Culture team.
Regrettably, due to the volume of applications we receive, we can't provide individual feedback on applications. However, we will notify you of the outcome of your application.
Eligibility
You must be an Australian citizen or permanent resident to be eligible for the program.
You must also be studying for a relevant undergraduate or postgraduate degree. Preference will be given to those in their final year of study but we encourage applications from those earlier on in their degrees too.
If you have any questions about our National Student Internship Program, you can get in touch with our People & Culture teams using the links below: