This is an excerpt only. Please click here to view the original article or click here to view more data on Financy
The disinterest in the great Australian dream of home ownership comes as a new survey commissioned by consulting firm Urbis, seen exclusively by news.com.au, found that only 10 per cent of people under the age of 25 years think they'll actually own their own home in the future. Compared to 90 per cent of people who doubted whether it would be possible.
The results get slightly better for 25-29 year olds with 18 per cent of respondents saying home ownership was highly likely.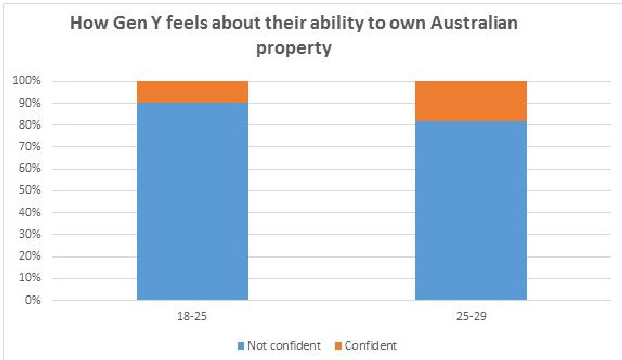 The vast majority of gen Y never expect to own property. Picture: Urbis
The survey of 1000 people adds weight to the view among some economists that the changing attitudes of younger Australians towards property ownership could exacerbate the price falls currently underway in the property market.
"With more housing supply coming on and a softening of lack of affordability, there is already downward pressure on property prices, and if there's less interest from younger Australians, that will only add to the correction," said Urbis chief economist Nicki Hutley.
The size of a deposit could be one factor affecting the attitudes of younger generations. If you're a first homebuyer in Sydney where the median house price is around $1 million, the loan to valuation ratio (LVR) that you're likely to get from the bank is 80 per cent, which means you'd need about $200,000 as a deposit, and that's without paying stamp duty.