On 16 June 2015, Social Impact Measurement Network of Australia (SIMNA) NSW held a workshop 'Data collection in the field (literally in the field!)'.  The session was hosted at the Urbis Sydney office and facilitated by Leigh Coleman (Founder and former CEO of Many Rivers Microfinance and previously of Opportunity International).
The main speaker, Tatiana Peralta (Project Manager at Opportunity International) presented a case study from her recent work with a microfinance provider based in India, Samhita.
The session began with Leigh asking participants to reflect on the commitment it takes to measure social impacts, "Getting to the point of committing to measure is a journey, there's no formula, you have to commit and believe in it." This theme of 'having a go' continued throughout Tatiana's presentation.
The Opportunity International journey towards measuring social impact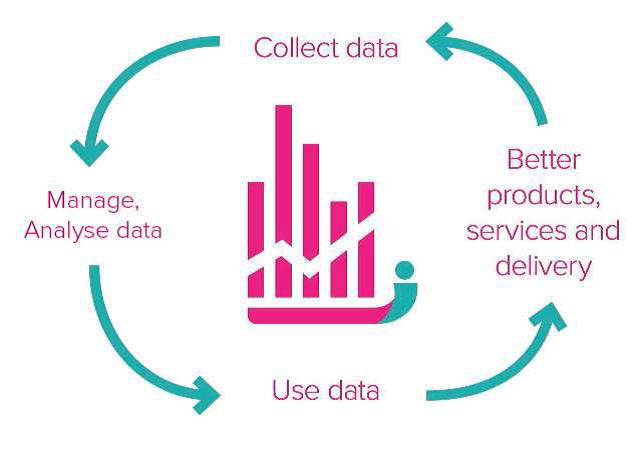 Opportunity International's social impact measurement journey has been a significant investment of time and resources. Commencing in 2010 with a process of defining the purpose of data collection, they moved towards a long list of potential indicators and by 2012 had developed a common set of indicators for global roll-out. The roll-out, including a period of customising measures, testing, and a local review will conclude in 2016, with a review and revision of the indicators.
Tatiana spoke of the significant challenges of moving towards social impact measurement using a common set of indicators for a global organisation with hundreds of partners internationally: "You have to start somewhere, and it might not be perfect. As you can see it takes time, and we have learned that implementation can be painful and discouraging, but the outcomes are critical for proving our work and communicating that change to our supporters."
The Samhita story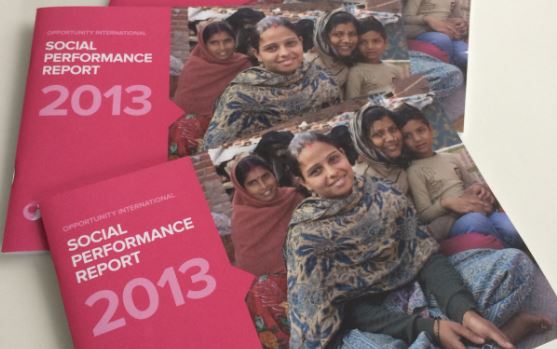 Samhita, one of Opportunity International's partners, is a microfinance institution based in Bhopal, India and was presented by Tatiana as a case study demonstrating the challenges of collecting data in the field, as well as the significant benefits to date. Samhita started operations in 2008 and operate in three impoverished states of India. They provide microfinance loans to nearly 90,000 clients through 96 branches. Loan customers are often women, who utilise the finance to make capital investments in things like sewing machines, cooking equipment and other materials to operate small businesses.
Samhita are a long term partner of Opportunity International although were initially suspicious of the SPM process and requirements. Tatiana's team have invested significant effort in engaging Board members and top management to build understanding and buy-in of the SPM process and in training staff in the field to use the system. Critical to developing this buy-in is what Tatiana called 'feedback loops' – that is not just collecting data but also managing it, analysing it and reporting it back to the right people: "The thing about feedback loops is they must be loops. If you collect a whole lot of data but don't report it back to the people it impacts, what's the point?"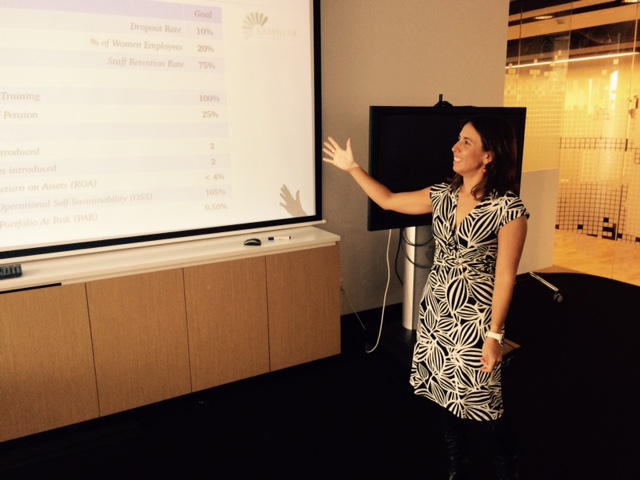 Samhita have also used tablets and cloud based technology to streamline data collection and reporting, further supporting sound social and financial performance monitoring. After 12 months using the system, the organisation is already seeing benefits including quicker loan processing, better information available to clients regarding their loans, less paperwork and an average time saving for field staff of 2.5 hours per day.
After spending nearly four years working on the design and establishment of the Opportunity International SPM, Tatiana could barely contain her excitement at the prospect of finally being able to get her hands on the data. The organisation has recently recruited a dedicated analyst as the data begins to pour in to prepare to manage, analyse and, at last, report the findings.
For more information feel free to contact Urbis Economic and Social Advisory Associate Director Poppy Wise, who sits on the SIMNA NSW Committee.