YP Gold Coast has released 'Great Ideas for the Gold Coast'. The report, prepared by Urbis, sets out a series of ideas to support the Gold Coast's future as a global city.
Great Ideas for the Gold Coast is a call to action from all those with an interest in the smart growth of the city – the State government, local government, agencies, businesses and the community.
Flynn McFarlane, YP Gold Coast President, said: "At YP Gold Coast, we aim to have a bold voice on the most important issues and opportunities for our city. We represent no one sector or interest but we share one passion: The Gold Coast.
"The outcome of Great Ideas for the Gold Coast will inform our advocacy efforts moving forward, and we hope our members get behind these ideas to shape a city that appeals to current and future young professionals.
"Right now, these are just ideas. We need the support of government, the business community and the wider public to turn them into solutions."
Director Matthew Schneider, who leads Urbis' Gold Coast practice, said: "The Gold Coast already has many of the assets that we need to become the world's best subtropical city – quality education providers, medical facilities, tourist experiences and entertainment as well as an unbeatable lifestyle and environment."
"What we need now is to fully appreciate our competitive advantages and build on them to fiercely pursue our city's exciting future. We need ideas that draw on our distinctive qualities and are aspirational, thought-provoking and achievable. We're proud to be working with the YP Gold Coast to create those city-shaping ideas."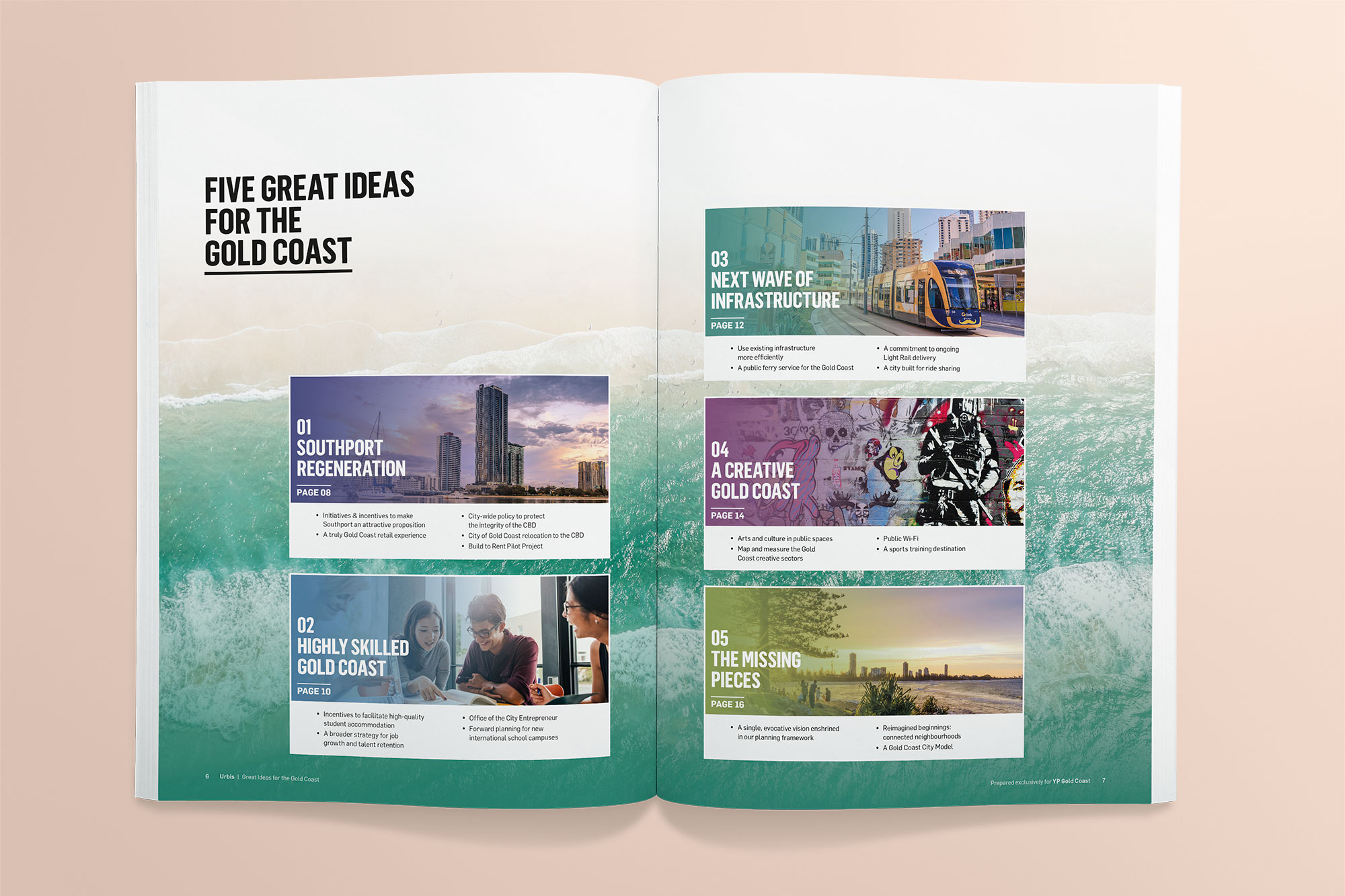 1. Southport Regeneration
The vision for the Southport Priority Development Area, a definitive centre of commerce on the Gold Coast, is bold and ambitious.
But cities are intrinsically slow to evolve. It takes time to develop infrastructure, grow employment and make significant change. We need to consider short-term ideas that help government, business and the community position Southport for future success.
The success of Southport will support the evolution of integrated precincts within the city that have local relevance, a sense of speciality, and that form the heart of the Gold Coast.