Urbis is pleased to note the online publication of its comprehensive evaluation of the National Partnership Agreement on Indigenous Early Childhood Development (NPA IECD).
In 2008, COAG agreed to a series of ambitious targets to address the disadvantage faced by Indigenous Australians in life expectancy, child mortality, education and employment. The NPA IECD involved significant investment by the Australian and state and territory governments in support of closing the gap on maternal child health, early years' and young people's sexual health outcomes.
The report was a collaboration between Aboriginal and non-Aboriginal evaluators, led by Claire Grealy, Julian Thomas and Susan Rudland working closely with Karen Milward, Yorta Yorta woman, and Kerry Reed Gilbert, Wiradjuri woman.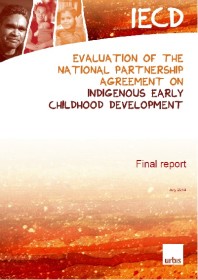 Please click here to download a copy of the report